Around the Clock Heating and Air Conditioning in Valencia, CA
As a part of the City of Santa Clarita in the greater Los Angeles County, Valencia has a Mediterranean climate with mild winters and arid, warm summers. However, Southern California has been in a drought for the last half decade, with rainfall growing slimmer each year. The dry chaparral climate affects both ends of the spectrum of seasonal weather. Summers are getting hotter, with temperatures elevating to 95 degrees and above, with increasing consistency, while winter temperatures continue to fall into the 50s. Basically Valencia is becoming more desert like (as it once was.)
Although now an affluent City of Santa Clarita, community, Valencia, was once an independent planned neighborhood. Valencia became one of the four unincorporated communities to join together to form Santa Clarita. A lesser known gem of Los Angeles County, Valencia was first developed in the 1960s by the Newhall Land and Farming Company. Improvements continue to this day.
Valencia is proud of its history as a planned community. Its residential areas are divided into "villages," each unique and located near their own shopping plazas, parks, and schools. With its extensive system of pathways, known as paseos, Valencia is a highly unified community, allowing patrons to walk or bike anywhere without having to cross a street. Valencia has also unofficially branded by itself as "Awesometown," even displaying that title on their website.
Around the Clock Heating and Air Conditioning offers the best value in Valencia, CA, for heating, air conditioning, and ducting services, as well as indoor air quality services. To schedule an appointment for a free consultation and free estimate, call Around the Clock Heating and Air Conditioning at 800-434-9277, or contact us by going online today!
We Service Valencia, California Zip Code 91354, 91355, 91385
Our Service Area:
Map to our office: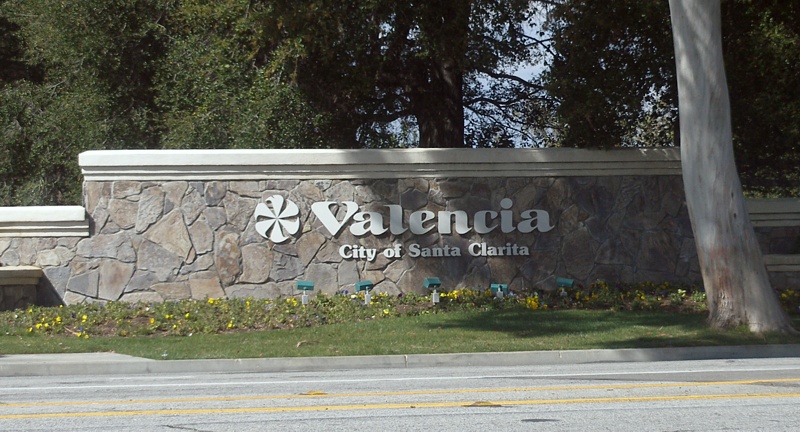 Welcome sign on McBean Parkway, near the I-5 in Valencia, Santa Clarita, California
Photo by Coolcaesar at en.wikipedia