Around the Clock Heating and Air Conditioning and Tarzana, CA
What is considered modern day Tarzana,CA nowadays was originally settled back in 1797 by Spanish explorers and missionaries who colonized the area and established the San Fernando Mission. Later taken over by Mexico, the land, following the Mexican-American War, was ceded to the United States in 1848. Under United States rule, its main usage was limited to grazing for large cattle ranches owned and controlled by the rich and powerful of the time. By the 1870s, investors bought the land and turned it into a large-scale wheat farm operation. In the 20th century, circa 1909, the land was purchased by the Los Angeles Suburban Homes Company. General Harrison Gray Otis, LA Times founder and publisher of the storied newspaper invested heavily in the company personally acquiring 550 acres for himself in the middle of what is now modern-day Tarzana. Less than ten years later, novelist and Tarzan creator Edgar Rice Burroughs, bought Otis's 500 plus acre tract and established Tarzana Ranch, named after his most famous loin clothed creation. Burroughs subdivided and sold the land for residential development with neighboring small farms following his lead.
Around the Clock Heating and Air Conditioning offers residential heating, cooling installation, replacement, repair, ducting, duct sealing and indoor air quality services in Tarzana, CA. Call or contact us online for a free estimate on a new Furnace or Air Conditioning system in Tarzana, CA or use our INSTA-BID BALL PARK ESTIMATOR.
Tarzana, California Zip Code is 91356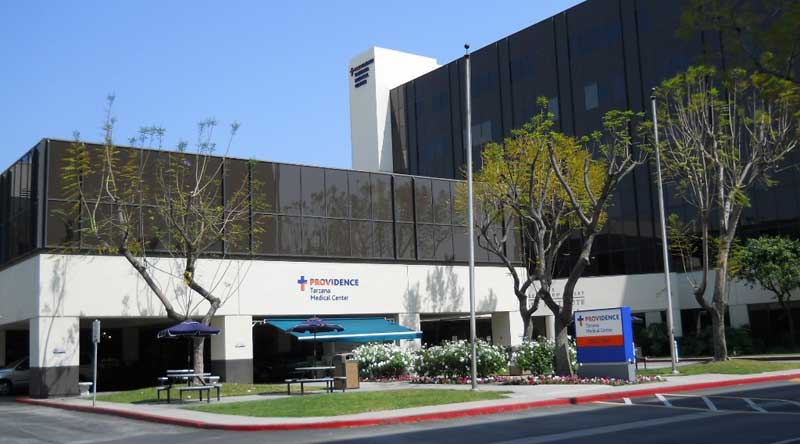 Tarzana's major hospital facility is Providence Tarzana Medical Center
Photo by JGKlein (Own work) [Public domain], via Wikimedia Commons