Around the Clock Heating and Air Conditioning in Santa Monica, CA
Situated on the western coastline side of Los Angeles County, Santa Monica,CA has a Mediterranean climate with warm, dry summers and mild winters. However, summer temperatures have begun to rise up to 90 degrees or above with increasing regularity, while the winter temperatures fall into the 50s.
Like most of Los Angeles, little evidence remains today of Santa Monica's prior history as a home for Tongva native Indians, or well the Spanish and Mexican rancheros. Santa Monica's modern foundation dates back to two entrepreneurs, Colonel Robert S. Baker and Senator John P. Jones of Nevada who purchased land along the coast with the intention of developing a prosperous industrial port.
Santa Monica became a famous resort town early in the 20th century because of its comfortable year-round weather and coastal location. The beachfront city is home to many celebrities and other wealthy residents, as well as avid surfers and students.
Around the Clock Heating and Air Conditioning offers the best value in Santa Monica, CA for air conditioning, heating, and ducting services, as well as indoor air quality services. To make an appointment for a free consultation or a free estimate, call Around the Clock Heating and Air Conditioning at 800-434-9277, or contact us online today!
Studio City, California Zip Code is 90401, 90402, 90403, 90410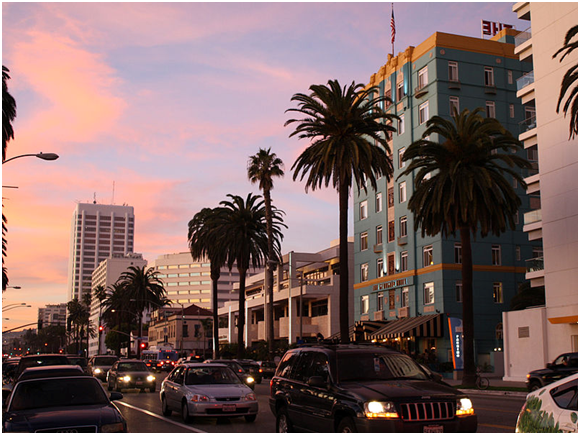 Ocean Avenue at sunset in Santa Monica, California
Photo by Mike Gonzalez (TheCoffee)