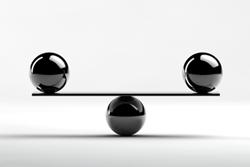 Central air systems use one large air handler and anetwork of air ducts to deliver conditioned air to your home. Central air may be the most widely used system in the country, however, many homeowners are discovering that ductless mini split air systems are the better conditioning option for design flexibility, zoned comfort and efficient operation. Read on to help you decide which system is best for your Greater Los Angeles home.
Installation Considerations
The cost of installation depends, of course, on the specifications of your individual project. However, you may get a good idea which system is best for your retrofit, new addition or new home by familiarizing yourself with the following examples.
Homes with existing ductwork: If it's time to replace or upgrade your oldcentral heat system, you may be better off sticking with this type of system. Just make sure your HVAC contractor correctly sizes your new central system and inspects your ductwork for compatibility. Modifications or air sealing may be needed for your ducts.
Homes without ductwork: Adequate space may be a problem when installing central air in homes designed without air ducts. You can run ducts through living spaces, but installation is going to be messy and costly. Ductless may very well be the best way to go.
New home design: Designing a new home offers an opportunity to maximize the efficiency and flexibility of your ductless mini split air system. Installation costs in many instances are comparable to central systems, and you'll also save valuable square footage.
Operation, Comfort and Efficiency
Ductless mini splits typically offer greater energy efficiency than central air systems. On top of superior SEER and HSPF, ductless systems don't suffer the same energy losses associated with average ductwork.
Moreover, you can control each indoor air-handling unit of a ductless multi-split network independently, rather than conditioning your entire home if it's not necessary. So, for greater efficiency and zoned comfort, ductless systems top central air systems for many applications.
For more information about mini split air systems and central air systems, please contactAround the Clock Air Conditioning & Heating.
Our goal is to help educate our customers in Los Angeles, North Hollywood and surrounding areas about energy and home comfort issues (specific to HVAC systems). For more information about air systems and other HVAC topics, download our free Home Comfort Resource guide.
Credit/Copyright Attribution: "kasiastock/Shutterstock"