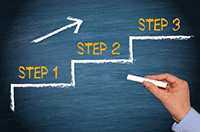 Building a furnace enclosure to house the heating equipment in your Los Angeles home can provide several advantages. Isolating your HVAC equipment inside its own enclosure can reduce noise, make part of your utility room or basement available for other uses and potentially improve your home's energy efficiency if you include an outside combustion air source.
Designing and building a furnace enclosure is not a project for the weekend do-it-yourselfer. You should engage the services of a licensed HVAC contractor in order to ensure your enclosure's design and construction are compatible with your HVAC equipment and meets all applicable building codes.
Here are a few factors your contractor will take into consideration while designing and building a furnace enclosure:
Adequate clearance. The walls of the enclosure need to be built far enough away from your HVAC equipment to allow easy access for maintenance and repairs.
Elevated platform. If the enclosure is being built before the furnace has been installed, it's a good idea to raise the floor a few inches to prevent damage from basement or crawlspace moisture and possible flooding.
Adequate combustion air supply. Your enclosure should contain at least one square inch of vents or ducts for every 1,000 BTU per hour of furnace capacity in order to supply a safe amount of combustion air. These vents can be built into the enclosure walls or the air supply can come through an external supply duct leading from outside your house into the enclosure. An inadequate air supply can reduce furnace efficiency and cause backdrafting of hazardous fumes into your home.
Adequate lighting. Your new enclosure should have a ceiling light with a switch outside the enclosure door for ease of operation.
Call Around the Clock Air Conditioning & Heating for expert help designing and building a furnace enclosure in your Los Angeles home. Our professionals can keep your home comfortable, safe and energy efficient all year-round.
Our goal is to help educate our customers in Los Angeles, North Hollywood and surrounding areas about energy and home comfort issues (specific to HVAC systems). For more information about furnace enclosures and other HVAC topics,download our free Home Comfort Resource guide.
Credit/Copyright Attribution: "docstockmedia/Shutterstock"