Spring is not only a great time to clean up your LA home, it is also a good time to get your annual Air Conditioning unit checkup. If you do not have an excellent HVAC unit working to make sure you and your family is comfortable, then you are in for a summer of misery. High-quality air conditioning is a must-have in the Los Angeles, CA and San Fernando Valley area. In the summertime, the weather in LA can get downright sweltering. Therefore, it is necessary that a professional come out and inspect your AC unit during the month of April, before you critically need your Air Conditioning unit.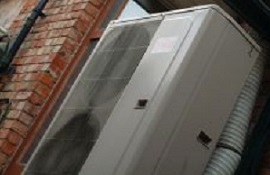 This small step can save you time, money, and headaches in the future. Similar to a car, an annual spring AC tune-up will help your unit perform its absolute best. When an HVAC specialist comes to your Los Angeles, CA and San Fernando Valley area residence, you can expect a fast, but detailed inspection of things like:
Thermostat Testing to Make Sure it is Accurate and Functioning
Checking to Make Sure All Controls are Working
Making Any Adjustments Needed to Blowers/Airflow
Lubricating Moving Parts
Cleaning the Coil On the Outside Unit and Checking the Refrigerant Levels
This is also when you should ask questions or voice any concerns you might have regarding your HVAC unit. If this summer's possibly expensive energy bills are an area of concern for you, ask about tips for reducing costs. You can also ask if it would be more cost-effective for you to purchase a new HVAC unit. If your Air Conditioning and Heating unit is more than five years old, the HVAC technician will compare it to current models and let you know what kind of savings you can expect with a new unit.
After Your April Air Conditioning Tune-Up 
After your April AC tune-up, be sure to do your part to get the most out of your air conditioner. For example, one of the main things you want to do is change your filters regularly. Another thing to do is to set the thermostat as high as is comfortable for you. During the sun's peak hours, close your curtains or blinds to prevent your home from heating up. If you do not already do this, start keeping a record of what has and has not been done to your air conditioner.
In addition, you want to make notes of when you change the filters, when you have an annual inspection, and when you have repairs or other issues with it. When you are choosing an Heating and Air Conditioning company for your AC maintenance, you want to select one that is truly reputable with many years of operating history. Your HVAC unit, regardless whether you are having it inspected or serviced, has a dramatic impact on you and your home. If you make a mistake in choosing the wrong Heating and Air Conditioning contractor, you could be paying hundreds of dollars extra per month in utilities.
The AC system in your residence is one of the most complex and hard-to-understand parts of your home. You need a highly trained and experienced professional to handle this piece of technology for you. A residence should have cooling comfort for the warmer months and only an HVAC expert is knowledgeable in how to accomplish this task.