When you live in a warm region, you are likely to be all too familiar with the dilemma of balancing the cost and comfort of staying cool. While on those hot, humid days, your air conditioner can provide the welcome relief of cooled air, keep your system running, and you will end up with a nasty shock when your energy bill arrives. The HVAC manufacturer Lennox recently conducted a survey, and it explored this tradeoff.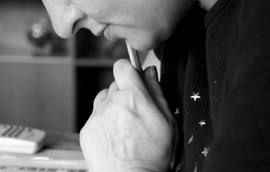 The Underwear vs. AC Debate:
The Lennox survey found that 68 percent of respondents felt that spending money on air conditioning was worth it if the alternative was sitting in their underwear. This doesn't mean that the respondents are blase about their air conditioning. Many of the respondents paid close attention to their thermostats, adjusting it according to their pattern of behavior. 61 percent adjusted their thermostat for sleeping, followed by 43 percent during entertaining, 19 percent for cooking, 16 percent during exercising and 13 percent for intimate time.
Some of the respondents were clearly more concerned with saving money. 30 percent of those surveyed would rather strip down into their undies rather than pay more for air conditioning. Money was a big motivator for almost everyone, with 69 percent citing their main motivation for conserving energy was to save some money rather than being more eco friendly.
Mitigating This Tradeoff:
There is usually a price to pay when you drop the thermostat by even a notch or two. Fortunately, the trade off between comfort and cost need not be stark. You do have more options than using your air con or sitting around in your undies. It is possible to mitigate this tradeoff by increasing efficiency to make the most of each air conditioning dollar.
Although it would appear daunting, saving energy can be quite simple. There are some basic tasks in home maintenance and improvement that can make a massive impact on your energy bills. Every effort at energy saving will count, but there are some that will deliver greater results. For example, while changing your air filters is important, a bigger change such as choosing to install a new smart thermostat can generate even greater savings.
Combining Savings and Comfort: 
Many of the homeowners surveyed considered that their efficiency behavior ranked a passing grade. 45 percent of those surveyed marked themselves with a B, while a further 31 percent considered that they deserved a C for their behavior that was related to maintaining their air conditioning system and other measures for energy efficiency. Just 18 percent ranked themselves with an A, which means that most homeowners are aware that there is plenty of room for improvement.
If you do want to boost the efficiency of your home and improve your home comfort levels, you should speak to a professional HVAC specialist. An experienced technician can assess your system and home to determine the areas where you can save energy and improve efficiency. This will allow you to enjoy keeping cool in the hot summer weather without it costing the earth.