While heating systems tend not to get as much use as air conditioners, an unreliable heating system can make those cooler days and nights very unpleasant. The best way to ensure that your heating system will operate correctly when you need it is with regular maintenance, but how do you know when it is the right time to arrange your HVAC appointment?
The Vital Role of Heating Maintenance: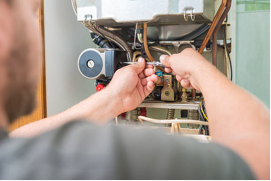 While you may prioritize maintenance for your air conditioner, many people overlook the importance of heating maintenance. Heating maintenance is not only important to ensure that you can have confidence that you will have heat when you need it, but it is also a fantastic form of preventing problems. Experienced technicians can assess your heating system to check for any worn components or potential problems that may develop when your system starts to be regularly used. This can not only avoid the inconvenience of a breakdown, but also ensure that your system is operating correctly. Regular maintenance can boost efficiency, as all the components are tuned to offer optimum efficiency.
Professional maintenance is also important to ensure that your heating system is safe. The technician will test for carbon monoxide, ensure that the ignition system is operating properly, test the safety controls, inspect all the wiring and check for leaks. They will also clean and lubricate all the components including the blower motor, heat exchanger, and burner.
Maintenance for Your Combined Heating and Cooling System:
If your equipment is used to both heat and cool your home, it is even more important that it properly serviced and maintained. If you have a heat pump, the same equipment is used for cooling your home in summer and keeping you warm in winter. This means that it can experience greater wear and tear compared to a standard heater.
The Right Time for Your Heating Maintenance:
Determining the right time for your heating maintenance appointment can be a little confusing for some homeowners. While you don't want to wait until the colder weather arrives and you need your heating every day, you don't want to have your system checked too early, when it might not be used for months. Most HVAC experts agree that you should have your heating system serviced once a year and the best time for heating maintenance is early fall. This is usually the time when your AC is no longer being used, but the temperatures have not dropped enough to require heating. Since this is the recommended time, many homeowners will be thinking the same thoughts about scheduling their appointment, so it is worth planning your appointment a little earlier to ensure that you get the best technician available.
Regardless of how your home is heated, it is important that it is safe, efficient and effective. An experienced technician can assess your system to ensure that it is operating correctly and you can rely on it to keep you warm in the colder months. So, as the temperatures start to drop, remember that it's time to start thinking about your annual maintenance appointment.