When it comes to heating and air conditioning, people today really have it easy. Usually, the precise air temperature you want is available with the flick of a switch. If it's too cold, you can instantly turn on your furnace to make it warm. If it's swelteringly hot, you can flick on the AC and have your home cooled in minutes.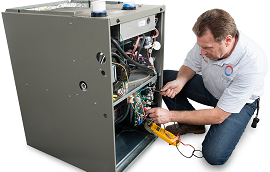 But when something goes wrong, many people realize just how good they have it.  During brown outs, blackouts or when heating, ventilation and air conditioning systems fail, it can affect your comfort and, in extreme situations, even your health.
What Heating and Air Conditioning Repair Services Do
Companies that repair furnaces and air conditioners provide a critical service. They not only return people to their "comfort zone" – where they can once again forget how fortunate they are to have whatever air temperature they want at the push of a button – but they also keep home HVAC systems running efficiently, reliably and affordably.
Repair Services
The failure of an air conditioner or furnace can cause a lot of anxiety for the home owner. Yet one phone call to a qualified, licensed HVAC repair specialist usually is all it takes to get the system back up and running in no time at all.
Heating and air conditioning repair services from qualified and licensed HVAC contractors means you are benefitting from professionals who have the training and experience to diagnose whatever problem is causing your HVAC system to fail. Highly qualified technicians typically have the knowhow to repair the problem as quickly as possible to minimize your discomfort and inconvenience.
Repairs range from the very small – such as replacing the battery in a thermostat or changing out clogged air filters – to the more comprehensive. There's even the occasional wacky repair, such as removing trapped birds that have flown down a furnace flue or recovering a diamond engagement ring that has accidentally been dropped into a floor vent.
Maintenance Services
Regular maintenance of a home heating and air conditioning system is essential to ensuring its efficiency, reliability and longevity. HVAC systems typically are expensive to replace, so the longer you can keep your existing system operational, the better off you – and your bank account – will be.
Maintenance goes beyond just replacing filters and cleaning ductwork. It includes regular inspections of your equipment, checking key parts to ensure they are performing optimally and it includes cleaning and maintaining furnaces, checking fluid levels and pressure on air conditioning compressors, and other task that will ensure the long and productive life of your HVAC equipment.
Installation Services
If you need to replace your AC or heating system or are building a new home, heating and air conditioning repair services have the experienced and qualified technicians that can install your new system professionally and expertly.
HVAC systems are complicated, high-energy systems that require experienced installers who know what they are doing. In some instances, manufacturers' warranties won't be valid unless the systems are installed by a certified technician.
Expert Advice
A Licensed HVAC Contractor qualified to provide heating and air conditioning repair services can also give you with the information and advice you need to keep your home at the proper temperature all the times, recommend top-quality equipment, and advise you on how to perform the routine maintenance that will extend the life and functionality of your HVAC system.
Whatever your heating and cooling system needs, a Licensed HVAC Contractor can offer you the heating and air conditioning repair services you need.